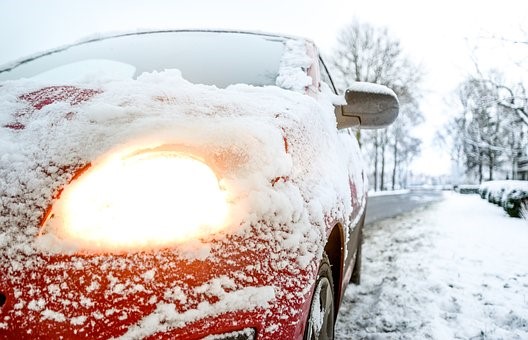 Moving is always a hectic experience. No matter how carefully you prepare, it seems like something always goes wrong. Usually, it's something you can't prevent, like the weather. Moving in the winter is generally a good idea because it doesn't cost as much, and moving companies are not as busy as they usually are (May to September is considered peak moving season). The problem with moving in winter is the unpredictability of the weather. A forecast that's free of precipitation one day can prove completely wrong the next. If you're unprepared for the worst, moving day can go from bad to worse very quickly. Following a few simple tips can help you get through it all, no matter what the weather brings.
Hire the pros
Hiring a professional moving company is usually a good idea. They handle the heavy lifting, they're experts at loading and unloading your belongings safely, and they're insured. Considering what can happen if the weather turns bad, you'll be much better off going with the pros. And unless you're used to driving a truck, you probably don't want to be navigating over slick roads. Make sure you investigate a company before signing a contract. Check customer reviews online and through the Better Business Bureau before deciding.
Stay informed and be prepared
Keep a close eye on the weather. Going by the 5-day forecast won't do you much good if things change radically the day before the movers arrive. Check hour by hour, especially if it starts to look iffy. And have your route planned ahead of time. If possible, select one that avoids hilly streets or heavily trafficked areas. Don't forget to take along a set of jumper cables; a snow shovel; coats, hats and gloves; snow scrapers; and extra gas if you're traveling a long way. You'll also need salt if the movers have to walk through accumulated snow and ice. You won't want everyone tromping through your new house with wet and dirty shoes, so be sure to put down some plastic sheeting or cardboard boxes to protect your carpeting.
Keep pets out of the way
If you have a dog or cat, do everyone a big favor by boarding your pet on moving day. There's no sense in having a skittish dog running around while strangers are moving your entire household out the door. You dog could cause an accident, he pet might get hurt, or he could run away with doors open and people coming and going all day. Boarding your pet means he'll be safe and well cared for until you're ready to bring him home. There are many options these days, including dog sitter and dog walking services that keep your furry friend occupied and active while he's in their care.
Set up utilities
The last thing you want is to arrive at your new home with all your belongings, only to find that there's no light or heat. The difficulty of the situation and your stress level will go through the roof if it's hard to see what you're doing and if you can't get warm. Your best bet is to make sure everything's turned on at least two days prior to your move and, if possible, stop by the house to make sure everything's working as it should be before you begin the move.
Take care of your movers
Most moving companies' rates stay about the same during the winter, which means your movers aren't getting paid extra for getting your stuff there safe through the snow and ice. Try to make them comfortable by providing something warm to drink, and give them a good tip to show your appreciation for their hard work in such bad conditions.
Moving in the winter can save you money, but if the weather turns bad, it can prove to be a poor decision if you're not ready for the worst. Use common sense and take every possible precaution if things start to look threatening. It's worth a little peace of mind to be ready for bad weather and know that you're prepared if things get out of control on your big day.
—
Author
Suzie Wilson is an interior designer with more than 20 years experience. What started as a hobby (and often, a favor to friends) turned into a passion for creating soothing spaces in homes of every size and style. While her goal always includes making homes look beautiful, her true focus is on fashioning them into serene, stress-free environments that inspire tranquility in all who enter. The Ultimate Guide to Prepping Your Home for an Open House is filled with tips, tricks and other advice based on Suzie's years of experience in interior home design that will set you up for success.
Courtesy of Pixabay